People who
Pop-up Hub is a temporary agency of House of Europe. It was opened in the Baggage marketing and communications school on 17 February 2022 and should have worked until 5 June 2022.

At the beginning of the full-scale invasion, the Baggage team started helping people from Kharkiv and Kharkiv Oblast. They founded the Volonterska charity organisation. Some of their activities were funded from the Pop-up Hub's budget.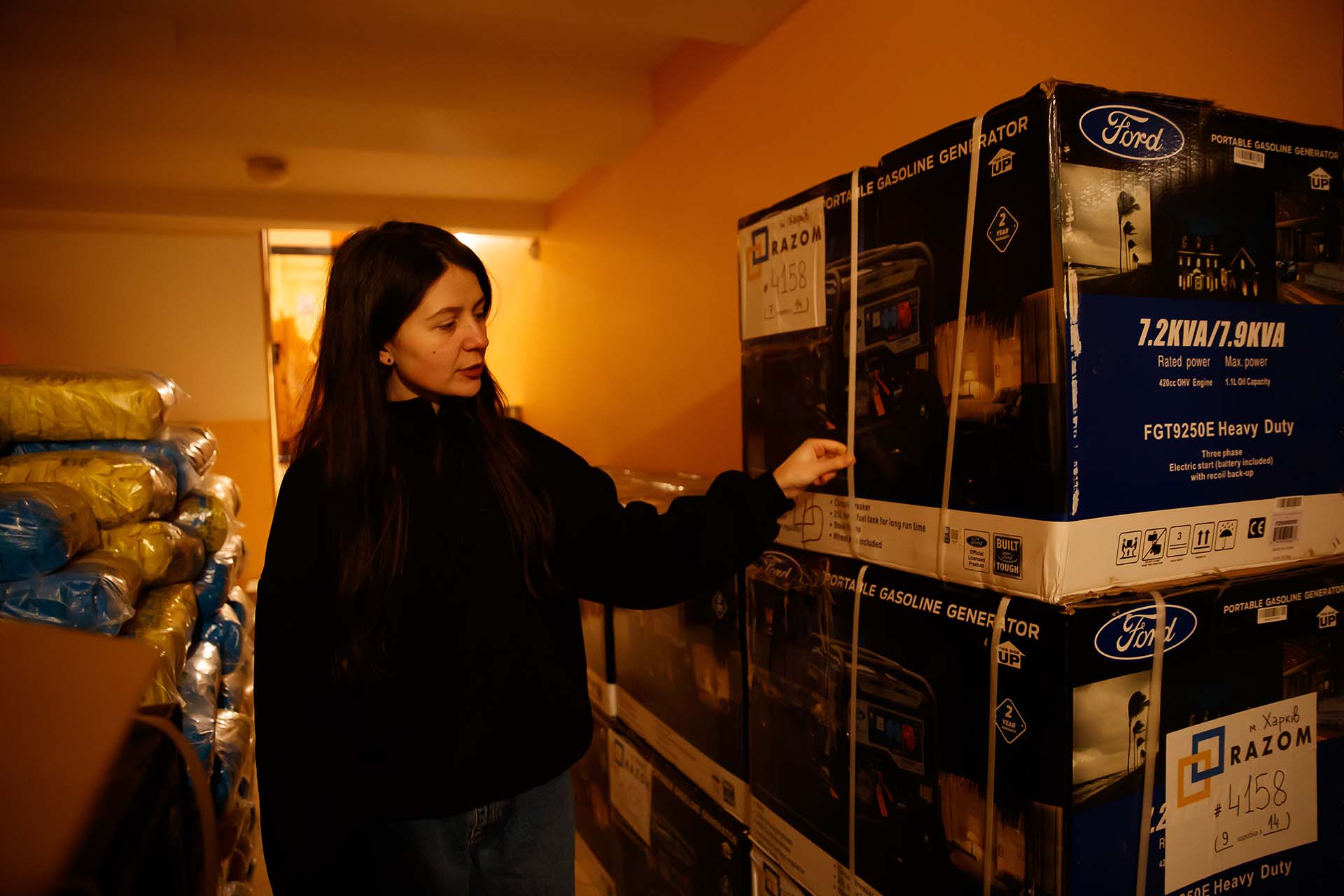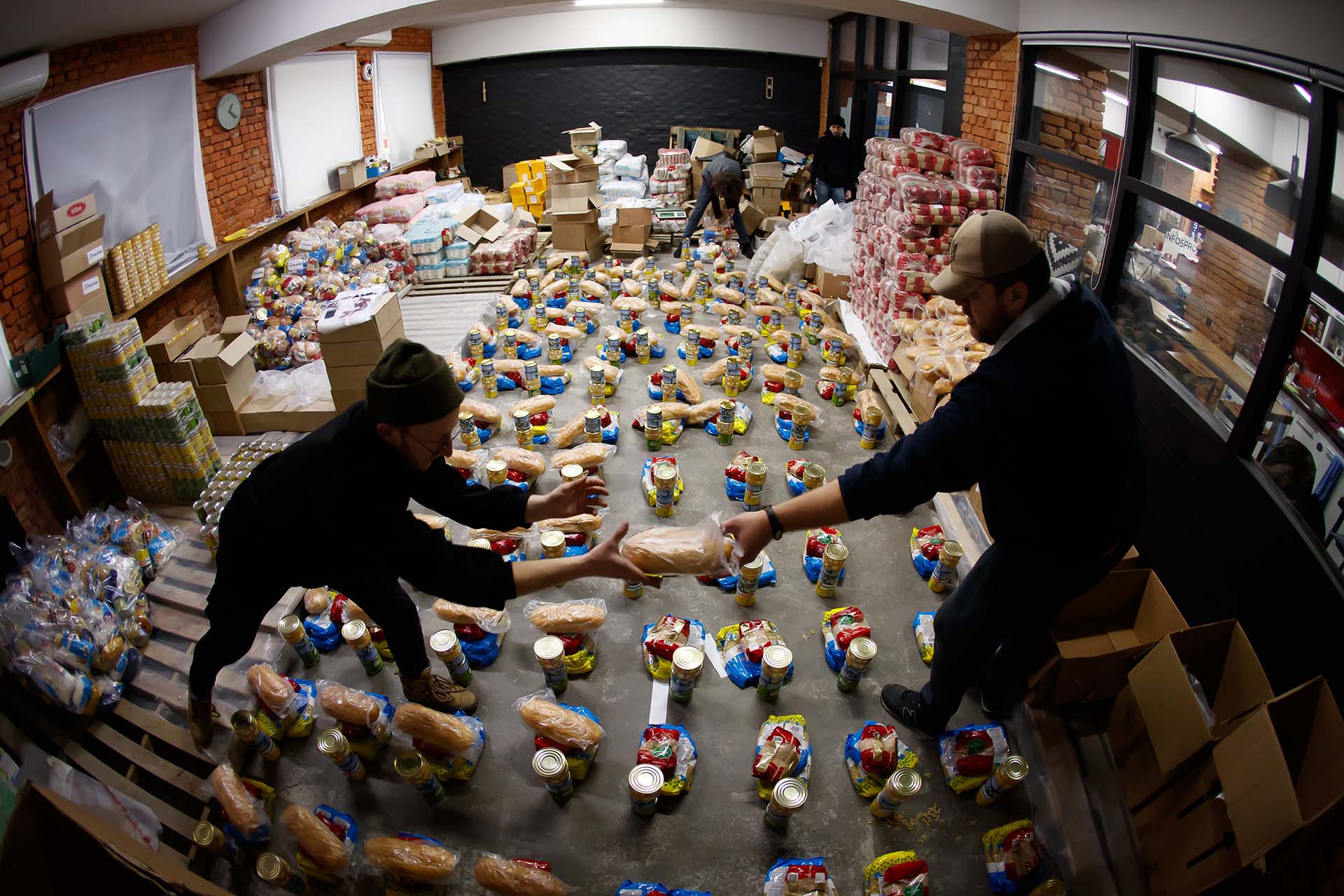 Some time before the full-scale invasion, the Baggage marketing and communications school won the open call to host House of Europe's Pop-up Hub .

In spring, the team should have become an embassy of the programme in Kharkiv and was preparing for the House of Europe Festival. But everything didn't go according to plan.

Meriam Yol is a manager of the school, curator of the intensive courses and Baggage producer. In the collaboration with House of Europe, she was responsible for communication.

'We did not even manage to announce the Festival. It was supposed to take place in the beginning of June 2022, Meriam says. It would have consisted of day and evening programmes: lectures, networking, workshops and a more relaxed part – an audiovisual performance of musicians and artists invited from abroad.

Another important thing is that we would have been a temporary embassy of House of Europe. So people would have come to Baggage to consult about open сalls and their terms and read literature that the programme brought to us specifically. So the aim was to make grant opportunities even more accessible to people from Kharkiv.'

For Baggage, Pop-up Hub was supposed to become a way of expanding the audience and forming the local cultural community.

In February-March of the previous year, various cultural and educational events were planned in the Pop-up Hub: workshops, discussions, film screenings, and presentations of House of Europe's grants and opportunities.

The official opening of Pop-up Hub took place on 17 February. On 23 February, the team held a French cinema evening with a screening of the film 'Bloody Milk'. The next day, Lyuk were to publish an article about the activities of Pop-up Hub.

'On 23 February, around 1 a.m., Olena Kasperovych, the programme director of Baggage, and I locked the office and decided to walk home through the city centre, Meriam remembers.

We noticed a military or specialised police bus near Kharkiv National Academic Opera and Ballet Theatre. We just passed it by discussing the next event. And it fully describes the way we worked the last weeks before the full-scale invasion.'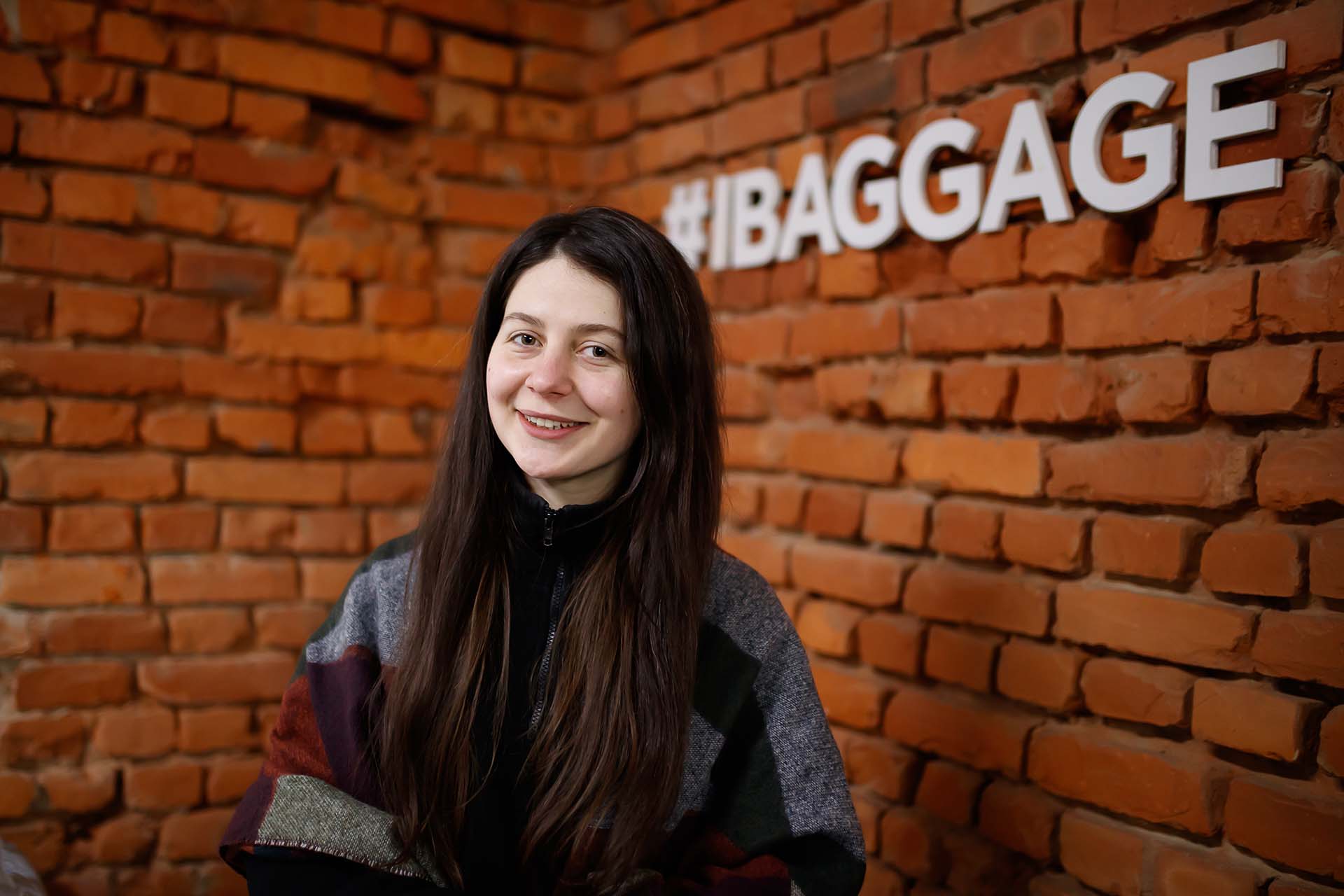 Even then, the information background was all about the fact that the war would begin soon. At that time, we decided to keep on working as long as possible. And then we would see. All of us woke up to explosions the following day
On 24 February, the Baggage team published a post on social media with a call for people to protect themselves, stay together, and support the army ending it with
"We'll keep in touch"
. Their next post was published eight months later.
'We have spent the money we wanted to spend on European artists on canned meat'
After the beginning of the full-scale invasion, Meriam recovered a bit from the shock and started volunteering.
'I stayed in Kharkiv and started volunteering,
she remembers
. I lived with my friends in Pakufuda, and we had an opportunity to bake bread. And a bunch of gastronomic businesses gave us their products, which we distributed through people.

At that time, volunteering was very chaotic. I would see a message in some group, "Urgently. There is an old man on that street who needs this medicine, help!" And you helped as much as you could.'
Since the beginning of the invasion,
Max Burtsev
, founder of Baggage, was involved in the organisation of future
Volonterska
. He registered the charity fund, organised the work of the hotline, introduced the system of registration and processing of requests, etc. After finishing the preparatory stage, he started working with Meriam and helping people from Kharkiv and the de-occupied territories of Kharkiv Oblast. That is how
Volonterska
was founded.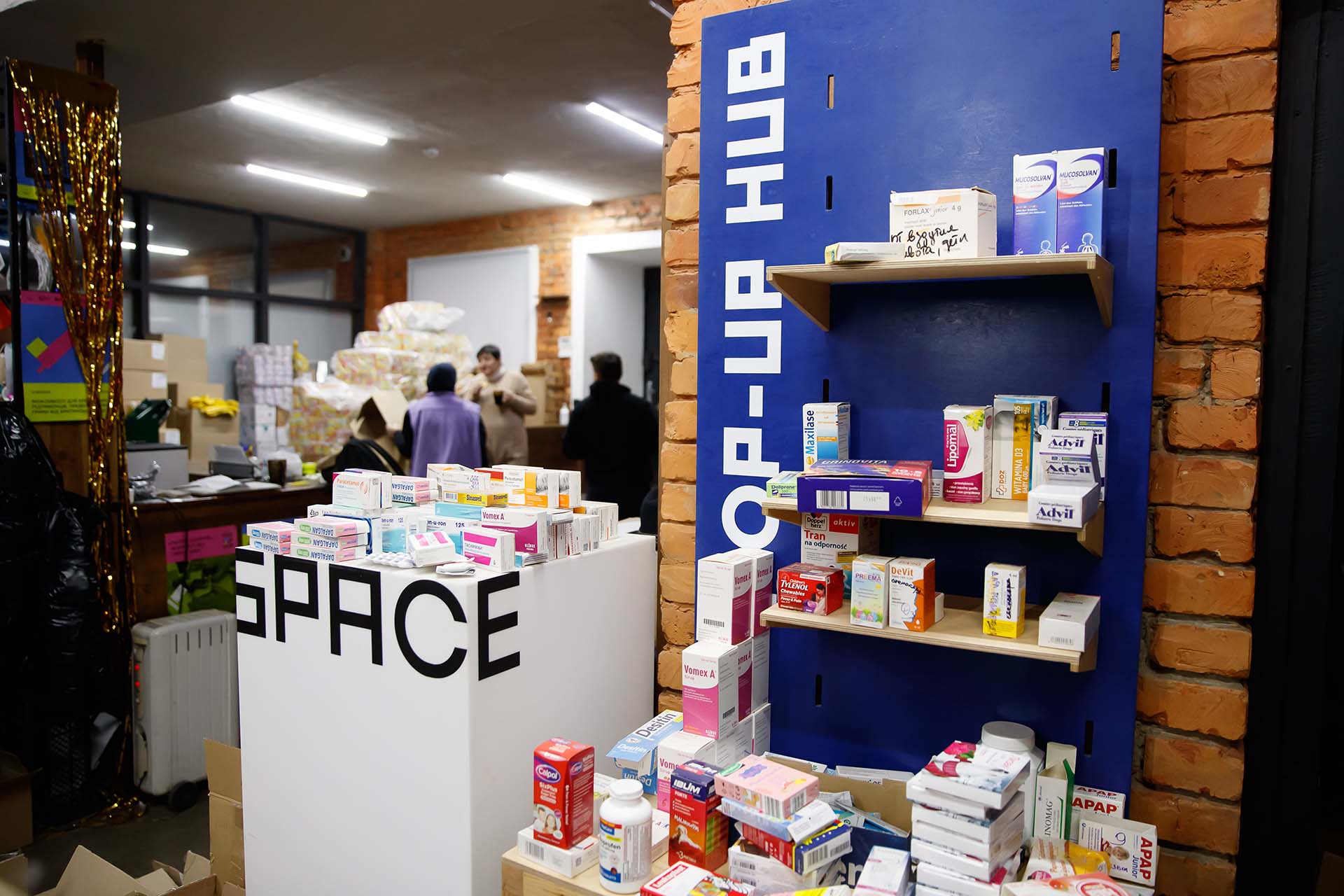 The House of Europe team saw that we started volunteering and suggested redistributing the unused budget of the project and to get humanitarian aid. So, the first part of their help was a huge 20-ton truck filled to the brim with food. We spent the money that we wanted to spend on artists from EU on canned meat
'The second part of the help was diapers for adults. It is a big part of our expenses. However, ten packs a day got distributed very quickly. Taking into account that the price of one pack is UAH 1,000, it is UAH 10,000 per day.

We divided these packs of 30 items, giving 10-15 of them to one person. If you have experience caring for sick adults, you understand that 15 diapers are for three to four days only. And when Yulia, a programme manager of House of Europe, asked what we needed, I replied: diapers. So their next delivery was a massive truck of diapers of different types and sizes for adults. We used them in about a month and a half.

In this way, our cultural programme turned into supporting different population groups from Kharkiv and later on from the de-occupied territories of Kharkiv Oblast.'

Yulia Filipieva, who is responsible for Pop-up Hubs in House of Europe, says that they quickly made decisions about the reorganisation of work with Baggage and about further actions of the programme after 24 February.

'Our task in Ukraine is to support representatives of culture and creative industries. Even with the beginning of the full-scale invasion, it has remained relevant. And the first thing for us, for sure, is saving people's lives, Yulia Filipieva assures.

Like everybody in Ukraine, we responded to the developing events. So, we quickly agreed with the EU delegation to Ukraine to re-purpose the money allocated for different programmes on urgent wartime needs. It was a general strategy of the work of House of Europe under war conditions.

We offered Baggage to use the remaining money from the project on things they considered necessary: helping people with food, water, hygiene, and evacuation.'

Pop-up Hub had a final event planned – a surprise party on 13 March. The team wanted to invite artists from the EU whose fees ended up being spent on canned meat.

'We called the event a surprise party because even we did not know what it would be, Meriam says.

The thing is that we wanted to invite particular artists from Europe to perform at the party. I dream that we will invite them someday, that is why I will not mention their names, but they are cool guys from Europe. But the guys from Europe said: "You see, here is the thing – COVID. Perhaps there will be another lockdown in March, and we will not be able to cross the border". So we decided that we did not want to lie to anyone, and either they would perform or our local artists.

One of our ways of communicating with the audience is by posters. We put them around the city and, of course, in our office. Unfortunately, there was no place for the poster with the surprise-party announcement on the main poster wall so we hung it separately so that everybody could see it.

Now, journalists come to our office and get surprised that already in March we organised parties. In fact, we did not deceive anyone. What has happened since 24 February is a real surprise.'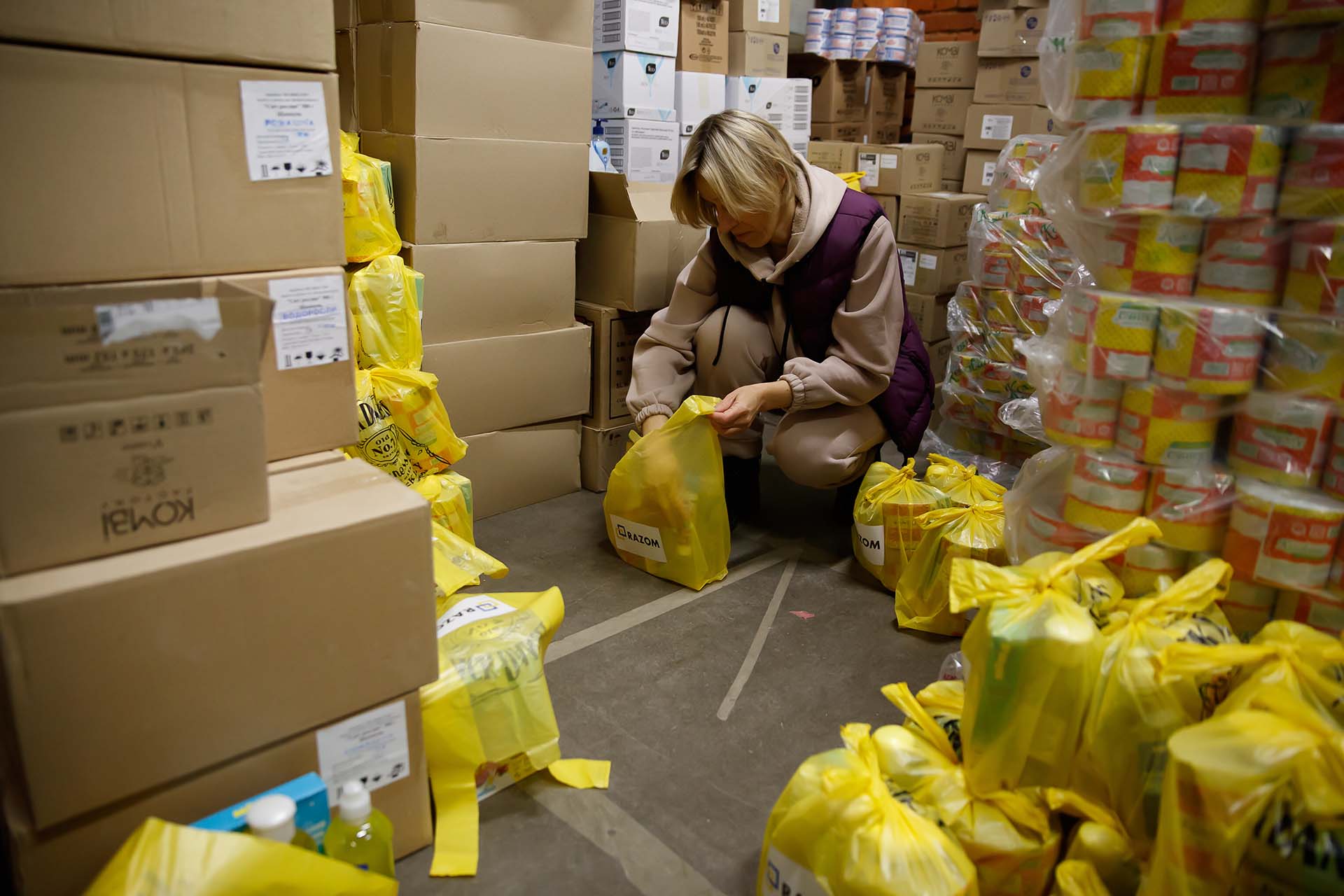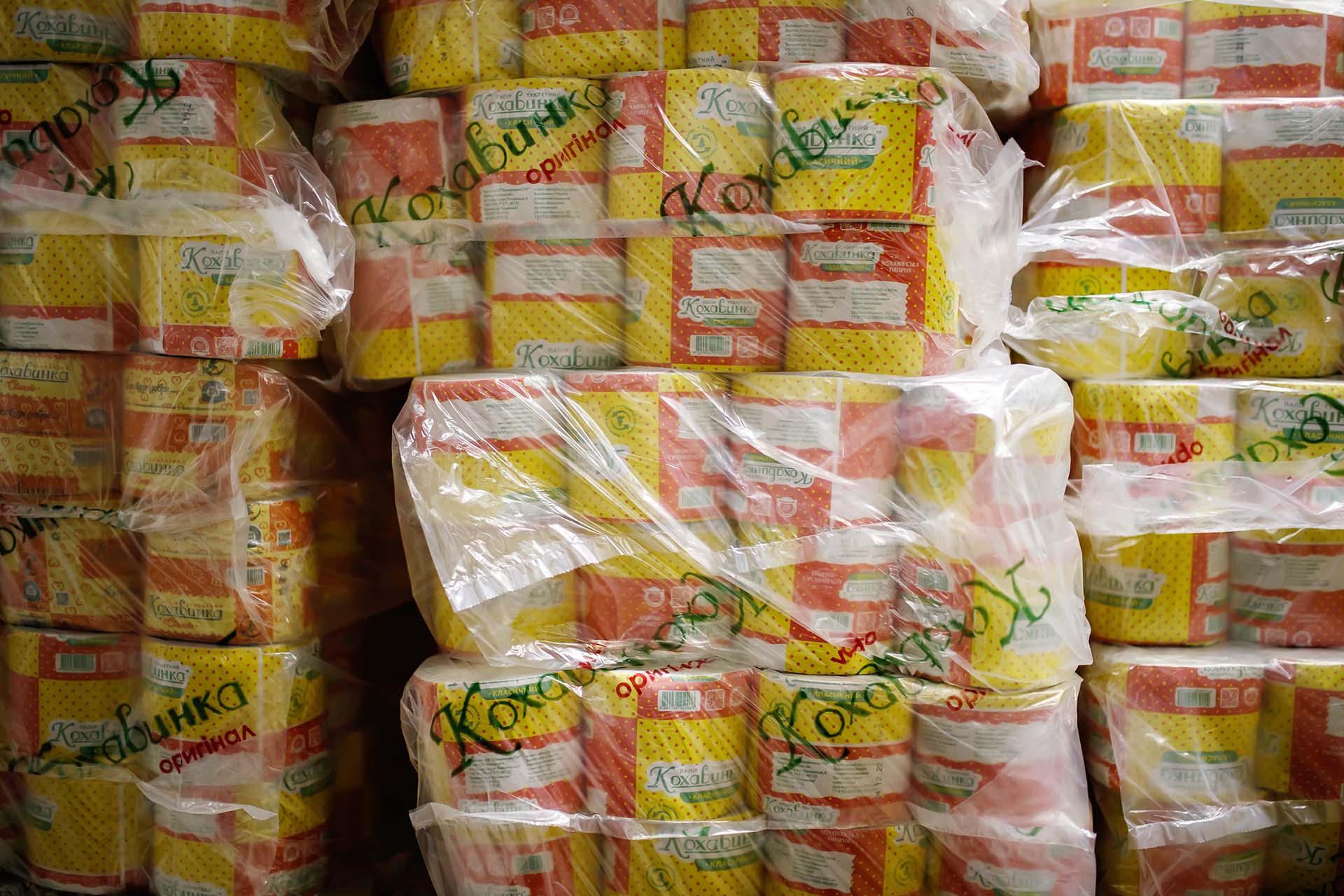 'Our dream is to cover people's basic needs'

Now, more than 60 people are involved in Volonterska. A part of the team works in the warehouse: sorts humanitarian aid, packs it into sets. Some drivers distribute humanitarian aid in de-occupied villages. Some of the volunteers, call centre staff and managers, are outside of Kharkiv.

People who need humanitarian aid call the hotline and leave their requests. Then, the managers contact them and clarify the details.

The main types of help provided by Volonterska are hygiene, food, medicine, pet food, baby food, and diapers. Except this, everything connected to limited mobility, for example, wheelchairs.

'Since September, when a vast territory of Kharkiv Oblast was de-occupied, 90% of our work is helping people in the de-occupied territories. And also people from Kharkiv who need long-term support for different reasons, Meriam says.

After the beginning of bombing of critical infrastructure, we also help with candles and flashlights as much as possible. Not in the amounts we would like to, but still.

From a PR perspective, we are engaged in an uninteresting activity. For example, the media would write about people who went to the de-occupied territories and made some tent for children to come and play. And, of course, it is very important and cool – recovery, reflection, psychological support, and stuff like this.'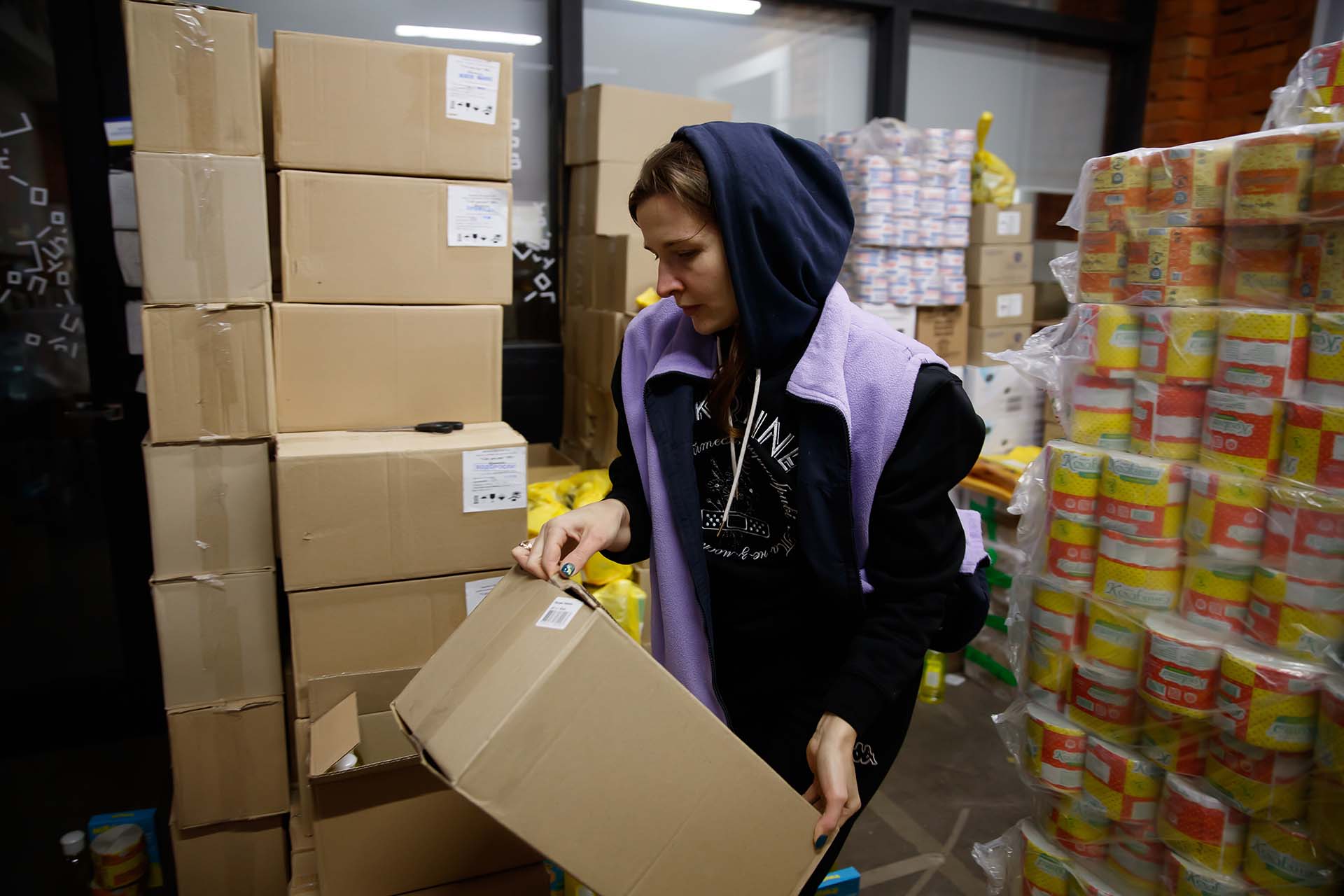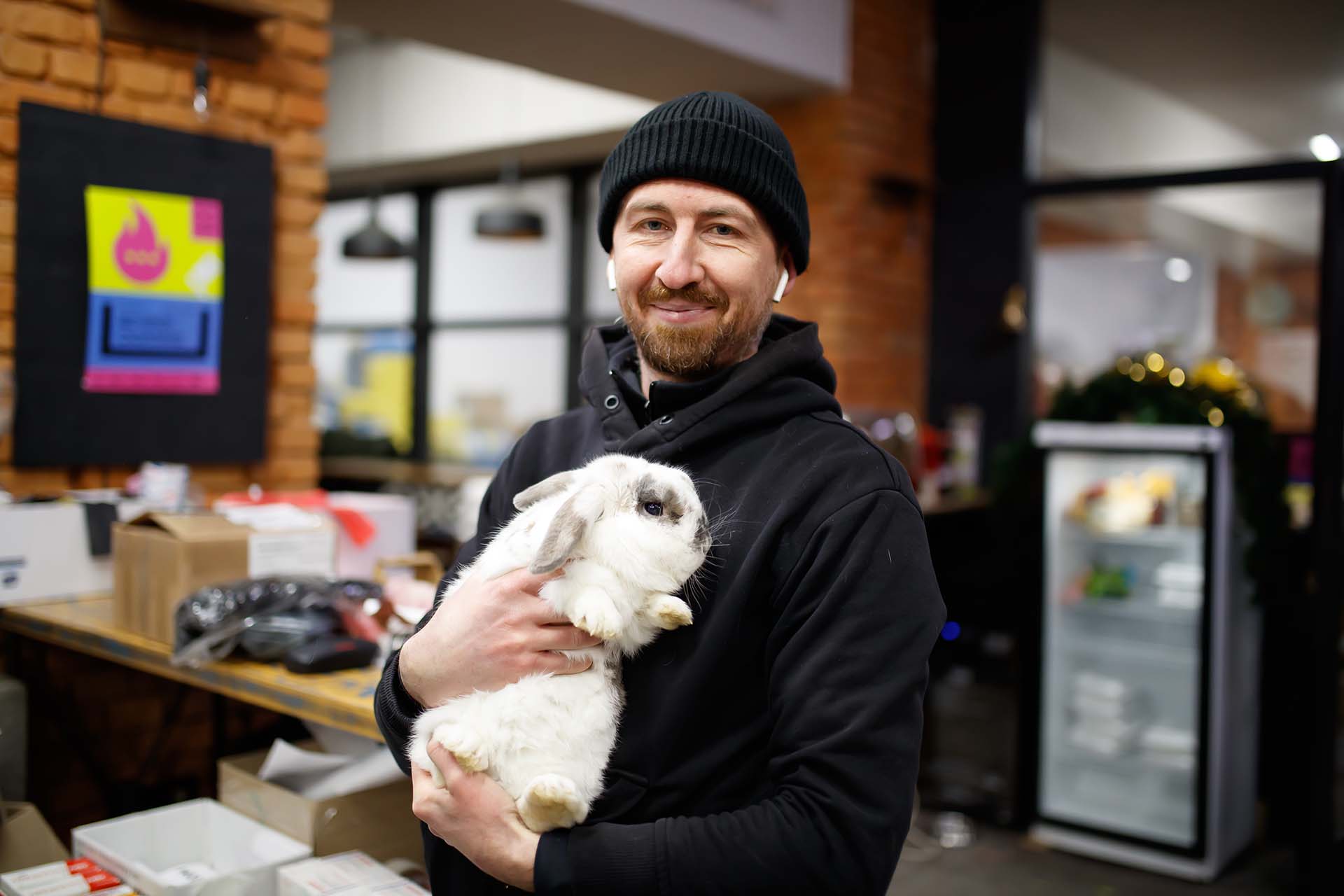 We deal with the part you can only say little about. We just bring hygiene to people. Sometimes, a child is very dirty after playing with sand. And when our drivers come to the village near Vovchansk, the name of which I cannot even remember, they see such children. But they are not dirty because they were playing, but because they have no water or soap
In spring, there was an urgent need for hygienic products in Ukraine. And it was very difficult to find them.

'Having euro accounts, buying things abroad is easy for us. That is what we did for the Baggage team, coordinating with them. They chose everything they needed, we paid for it and organised the delivery,' Yuliia Filipieva says.

The most complex and urgent request in the de-occupied territories now is medicine. There were no pharmacies in some small villages even before the full-scale invasion. Now, to get there from big villages you can spend not an hour and twenty minutes, like before, but five hours because there are no roads and the bridges are destroyed.

Volonterska also helps soldiers from the Armed Forces of Ukraine and Territorial Defence with helmets, bulletproof vests, backpacks, clothes, medicine, drones, walkie-talkies, scopes, thermal imagers, generators, gas stoves, cars, ambulances, buses, unmanned aerial vehicles, etc.

Meriam says that further plans of Volonterska include continuing working for the Victory.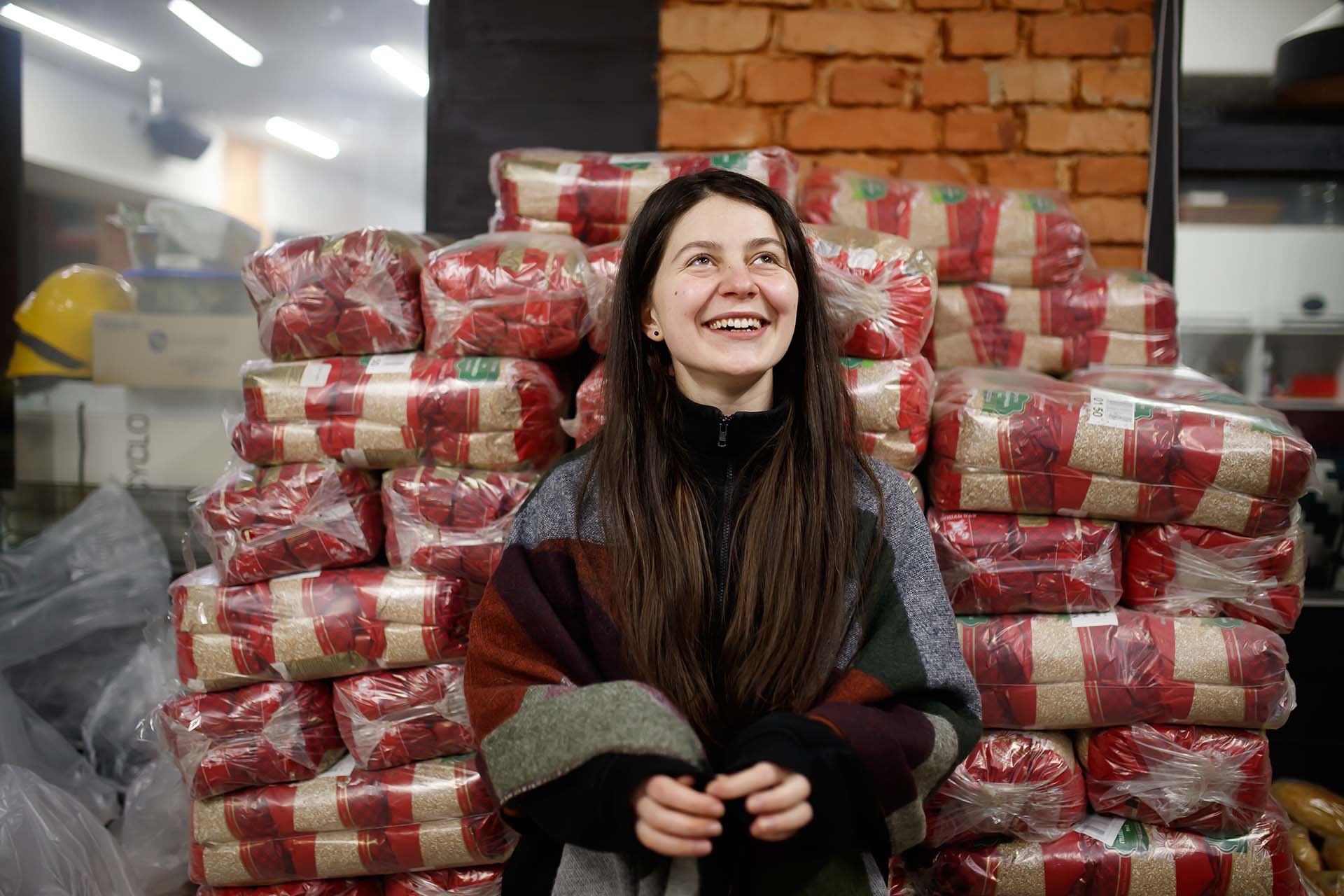 Our dream is to cover people's basic needs. To move on from solving problems of the lowest level of Maslow's hierarchy of needs. But as long as these problems exist, we will try to help to solve them.
'After 23 February, there were no events from the Pop-up Hub programme. I really want to carry out our collaboration plans, but there will be different ideas and concept compared to those that we had. Everything born before 24 February – died.

Today, I received an email from Yulia Filipieva, the coordinator of our programme on the House of Europe's side. She thanked us for our cooperation in 2022, and for our work and volunteering. And she hopes we will hold the Victory party in Baggage next year. The surprise party we were talking about.'

Lina Pluzhenko, photos – Oleksandr Osypov

Back to main page